JBA has partnered with surrounding schools and the surrounding community to host a Science, Technology, Engineering, Mathematics, Medical Exhibit featuring hands-on, interactive, educational displays designed to inspire, connect, and educate students on STEM-M career opportunities. The STEM-M Exhibit is available as a field trip for local students on Friday, May 10, 2019, and will be open to the public on Saturday and Sunday, May 11 & 12, 2019.
NOTE:
Schools must provide their own bus transportation and chaperones. Students may either pack a lunch or purchase a lunch on site. Schools interested should RSVP no later than 1 April, 2019 by emailing
[email protected]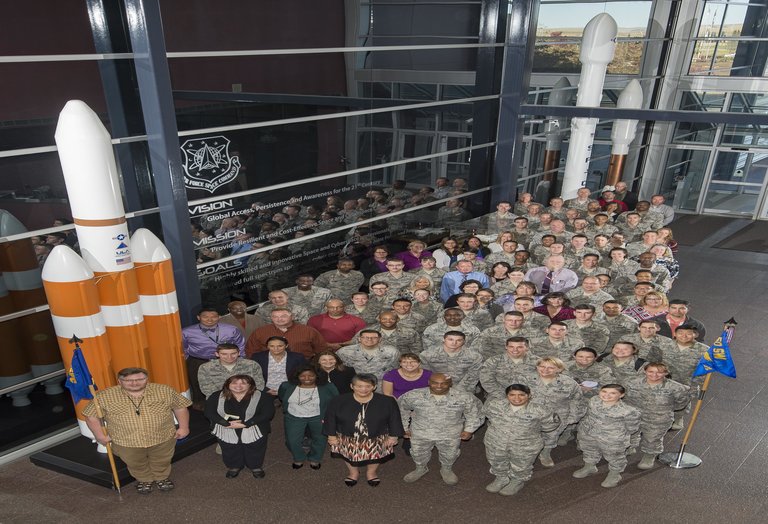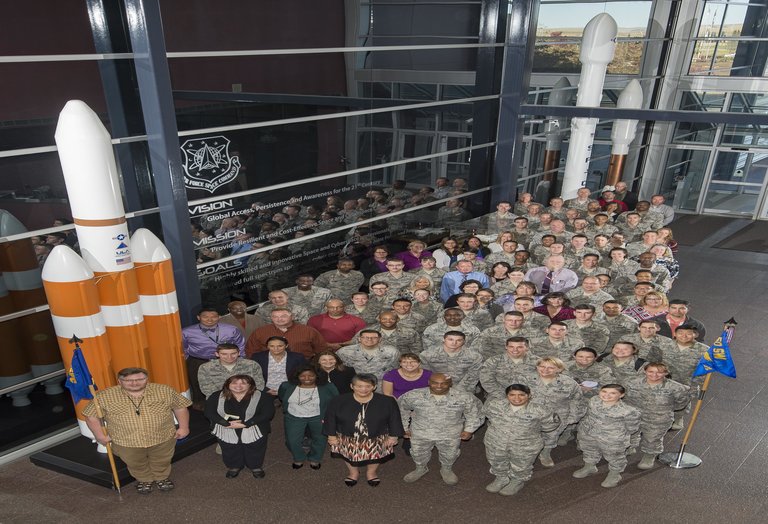 Air Force Space Command
AFSPC acquires, operates and supports the Global Positioning System, Defense Satellite Communications Systems Phase III, Defense Meteorological Satellite Program, Defense Support Program and the Space-Based Infrared System Program. AFSPC currently operates the Delta II, Delta IV and Atlas V launch vehicles.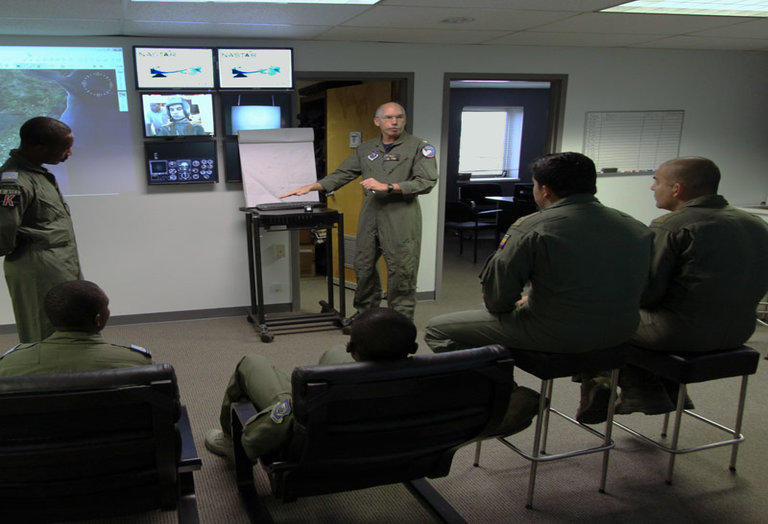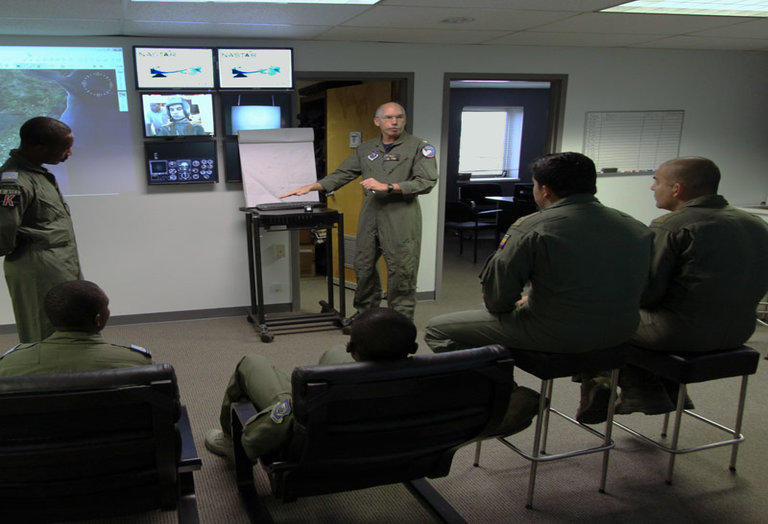 Natl Aerospace Training & Research (NASTAR) Center
The NASTAR Center's in-house training systems include the PHOENIX Centrifuge, GYROLAB GL-4000, and tactical aircraft Cockpit Modules in addition to other training devices. These state-of-the-art training systems are ideal for providing Tactical Flight Training to aircrew in the most realistic and cost effective manner and in accordance with client's tailored training needs.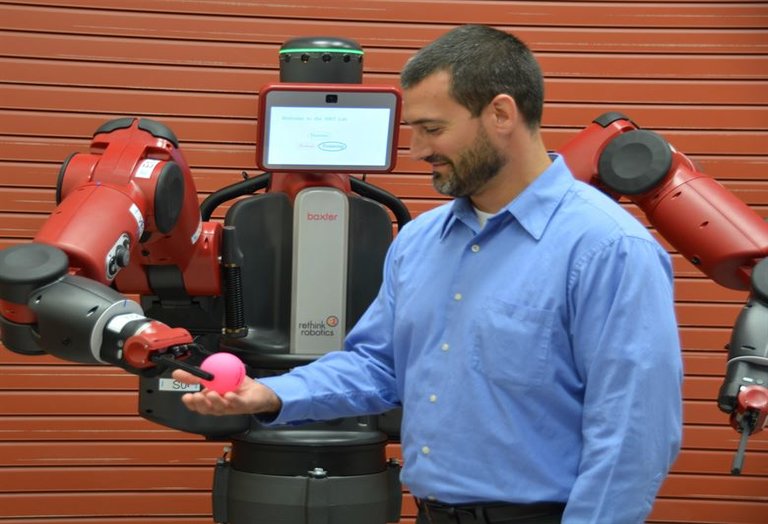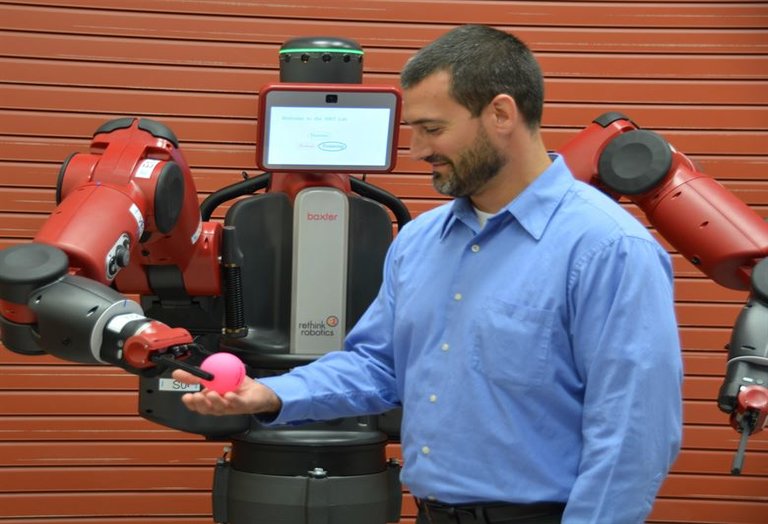 AFRL Robot/Drone Cage
The Air Force Research Laboratory (AFRL) is a scientific research organization operated by the United States Air Force Materiel Command dedicated to leading the discovery, development, and integration of affordable aerospace warfighting technologies, planning and executing the Air Force science and technology program, and providing warfighting capabilities to United States air, space, and cyberspace forces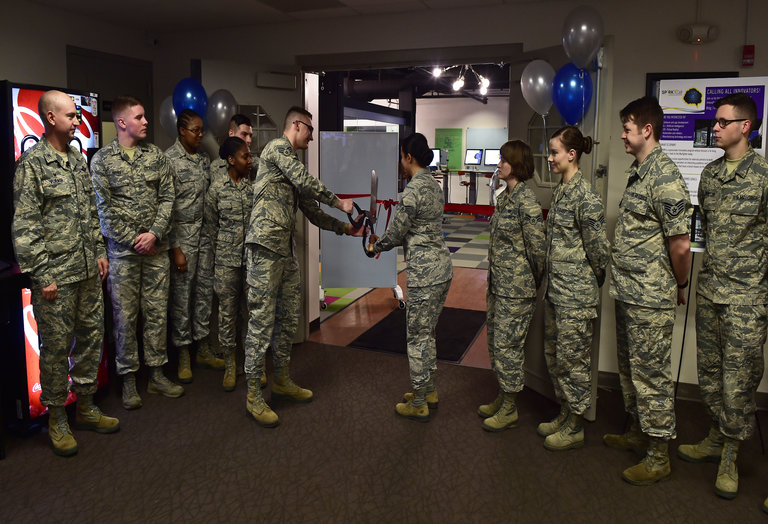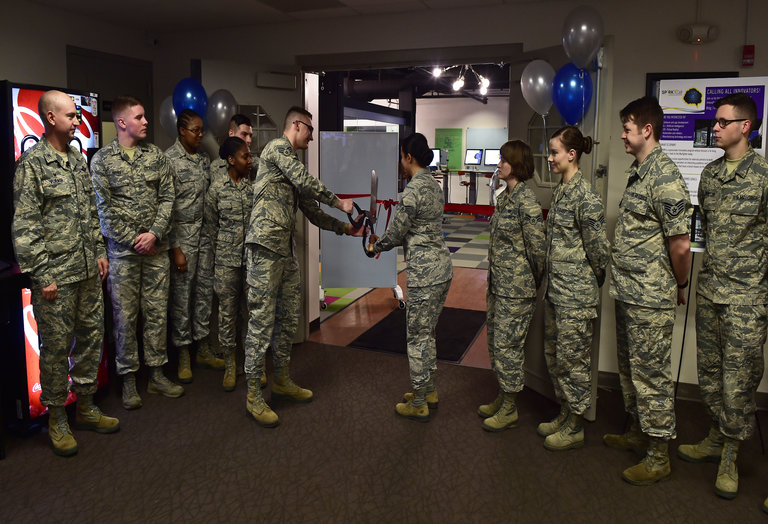 JBA SparkX Cell
The SparkX Cell Innovation and Idea Center on JBA held its grand opening Jan. 24, 2019 at the Community Commons. SparkX is an innovation program that integrates technology to help Airmen pursue solutions to improve the Air Force. Their mission is "to bring tomorrow's tools to the Warfighter today." The program began five months ago when a group of service members teamed with contractors to design and establish the Innovation and Idea Center, a creative design space for JBA personnel to use.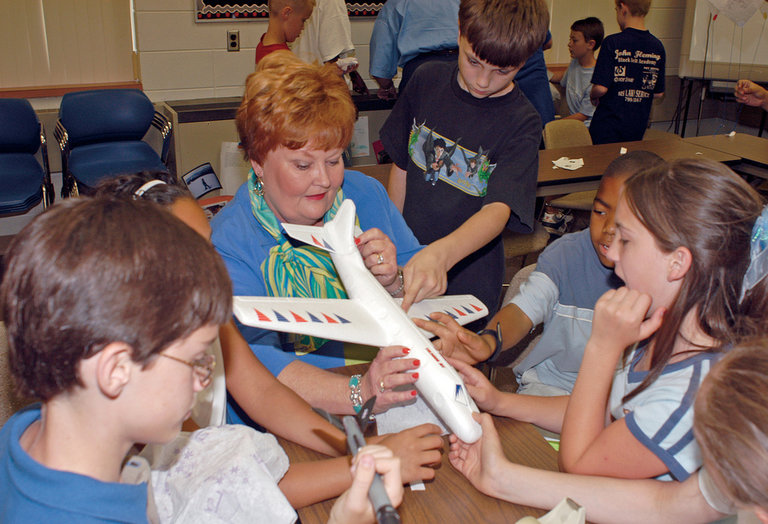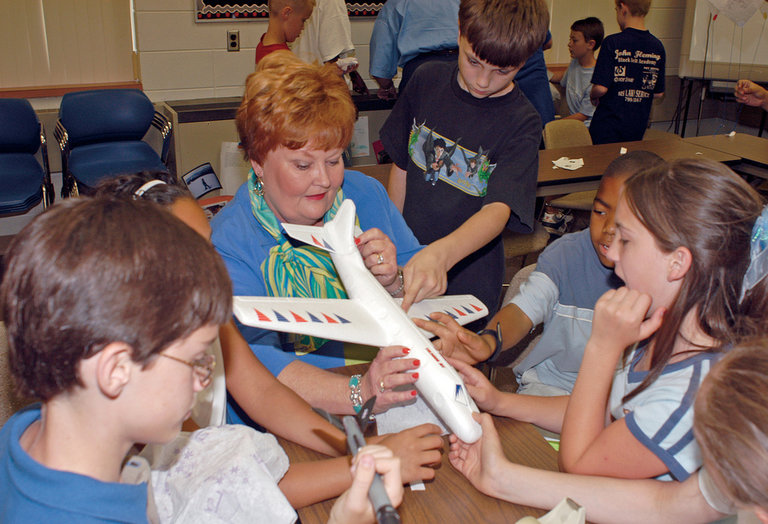 Civil Air Patrol STEM Kit
Civil Air Patrol provides CAP STEM Kit Program to nationwide CAP Unit Aerospace Education Officers and CAP Members who are educators. These kits are designed to enhance current CAP educational curriculum and programs and will be ready-made for immediate implementation. The goal is to generate enthusiasm among cadets and K-12 youth for STEM-related subjects and careers through a program supplying STEM resources for hands-on, inquiry-based learning.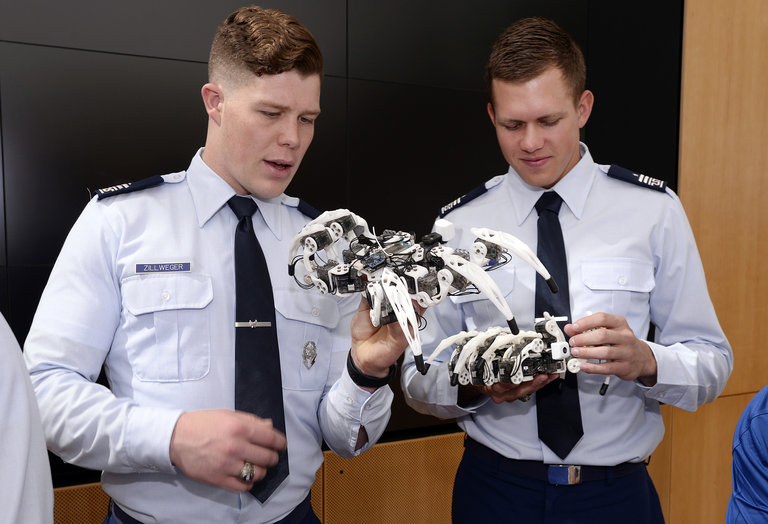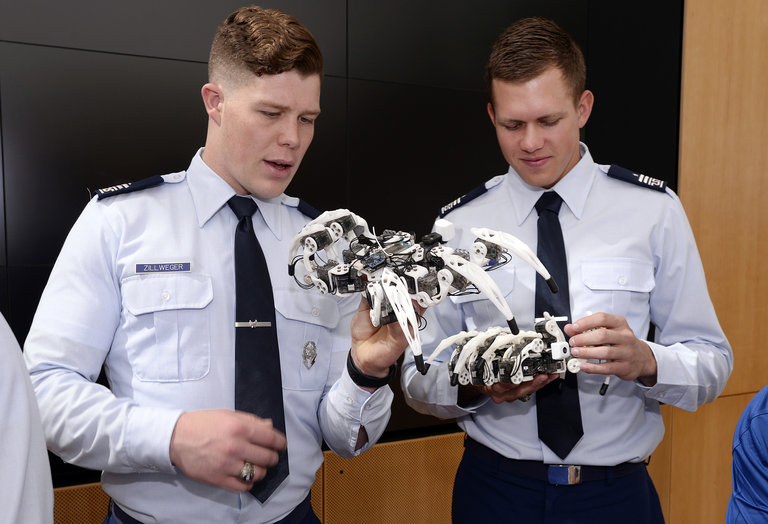 USAFA Robotics/STEM/Cyber
With robot technologies becoming more readily available in class- room settings, we integrated a three week project using commercially available robots as prototyping kicko project for their year long System Engineering (SE) capstone course. As part of this undergraduate class, students assembled and programmed robots in four teams to compete against each other in the "Robot Deathmatch Competition".
JHU Applied Physics Lab
John Hopkins University Applied Physics Lab solves complex research, engineering, and analytical problems that present critical challenges to our nation. APL—the nation's largest university affiliated research center—provides U.S. government agencies with deep expertise in specialized fields to support national priorities and technology development programs.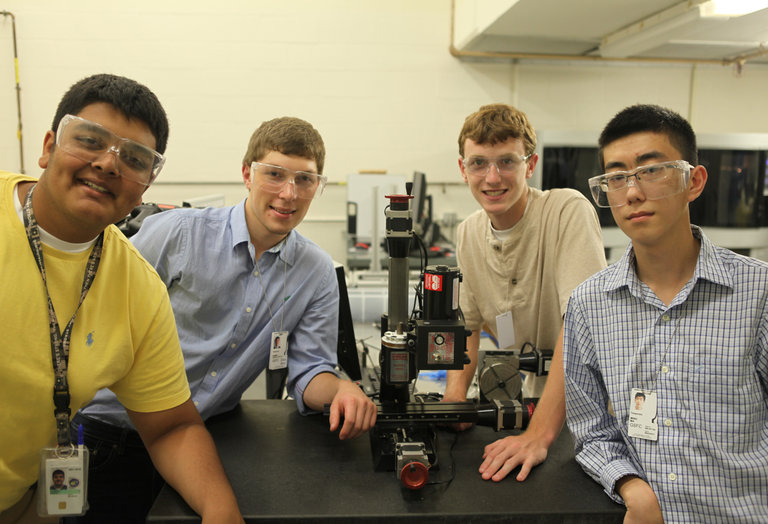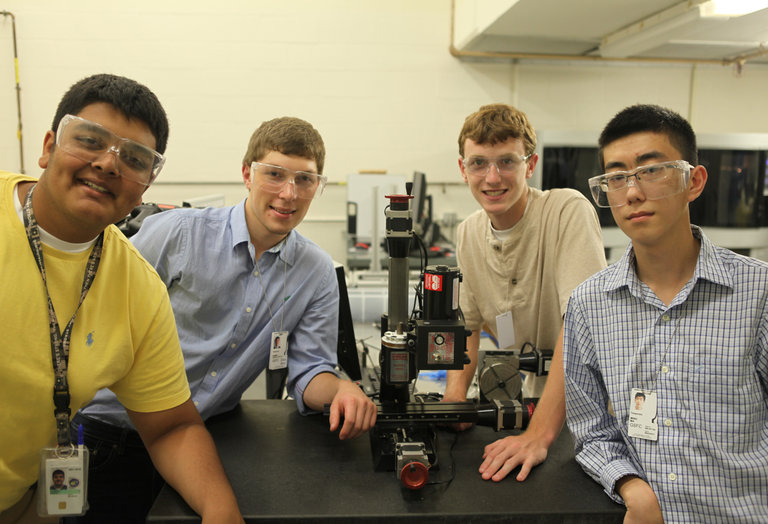 NASA Goddard
The Goddard Space Flight Center (GSFC) is the largest combined organization of scientists and engineers in the United States dedicated to increasing knowledge of the Earth, the Solar System, and the Universe via observations from space. GSFC is a major US laboratory for developing and operating unmanned scientific spacecraft. GSFC conducts scientific investigation, development and operation of space systems, and development of related technologies.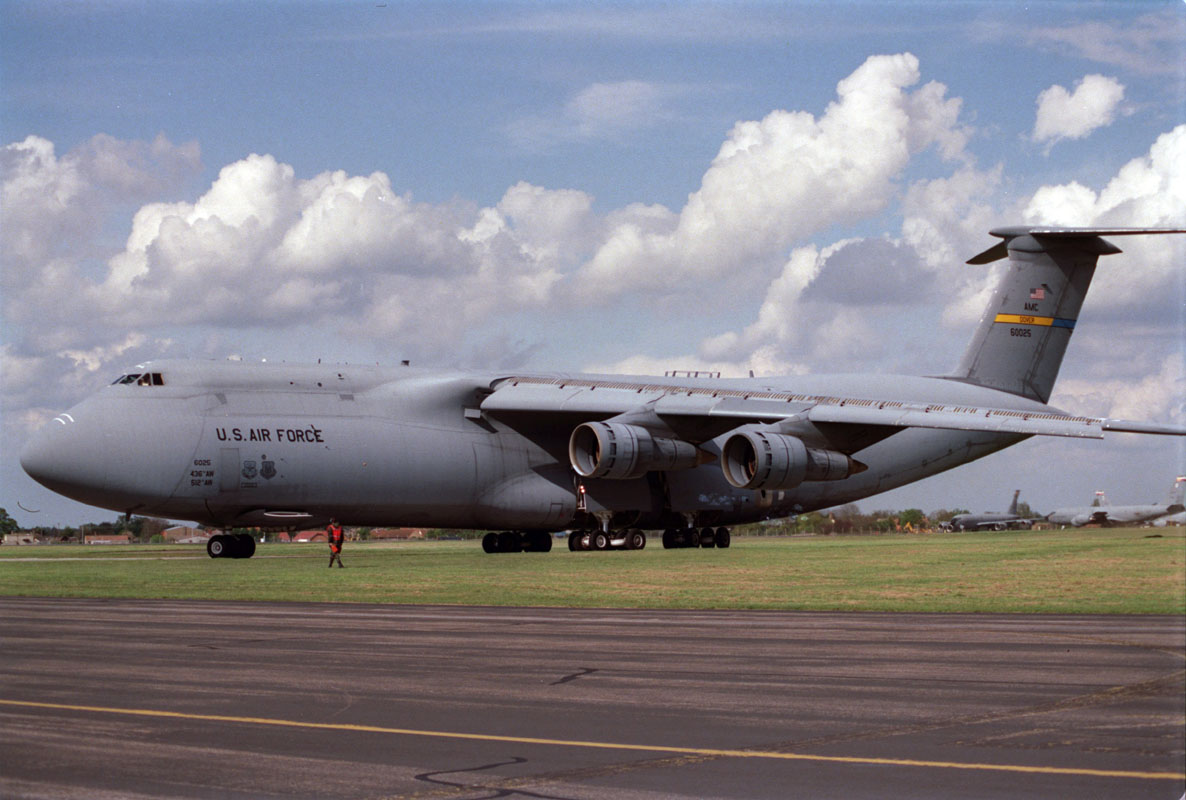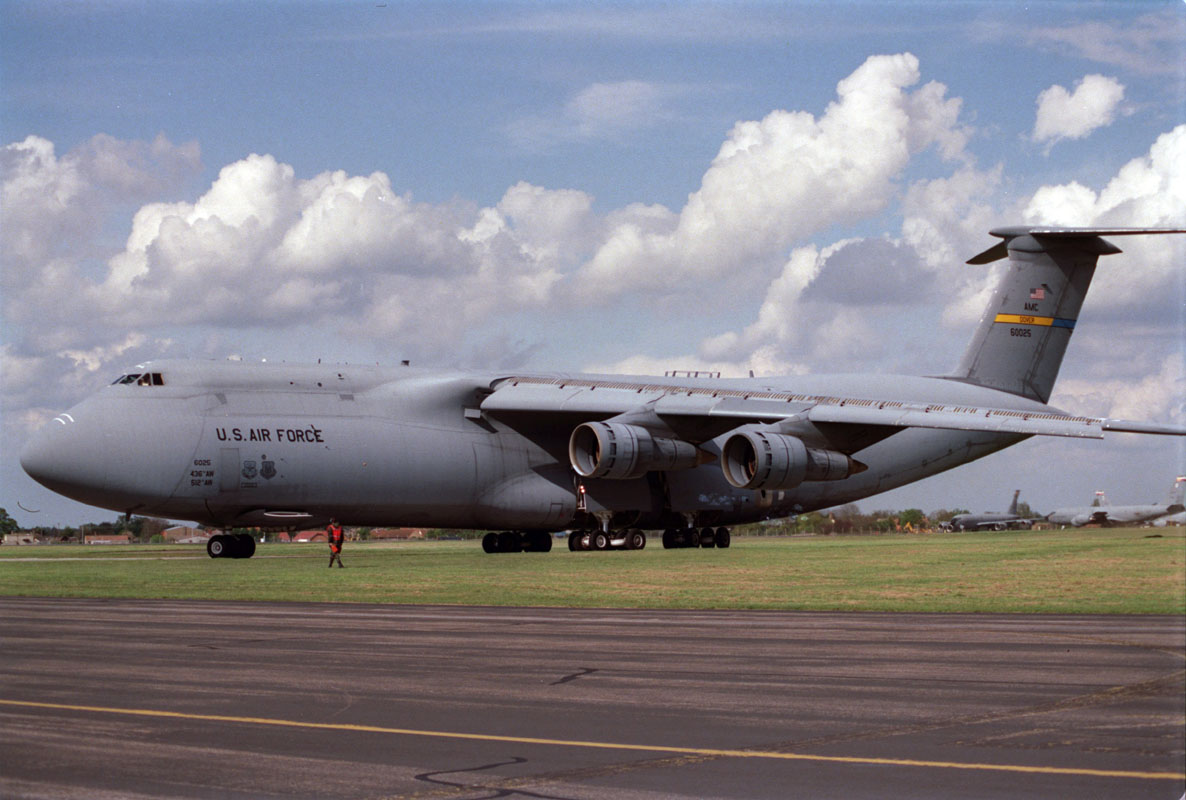 C-5 Galaxy
The first C-5A Galaxy (serial number 66-8303) was rolled out of the manufacturing plant in Marietta, Georgia, on 2 March 1968. On 30 June 1968, flight testing of the C-5A began with the first flight, flown by Leo Sullivan, with the call sign "eight-three-oh-three heavy". Flight tests revealed that the aircraft exhibited a higher drag divergence Mach number than predicted by wind tunnel data.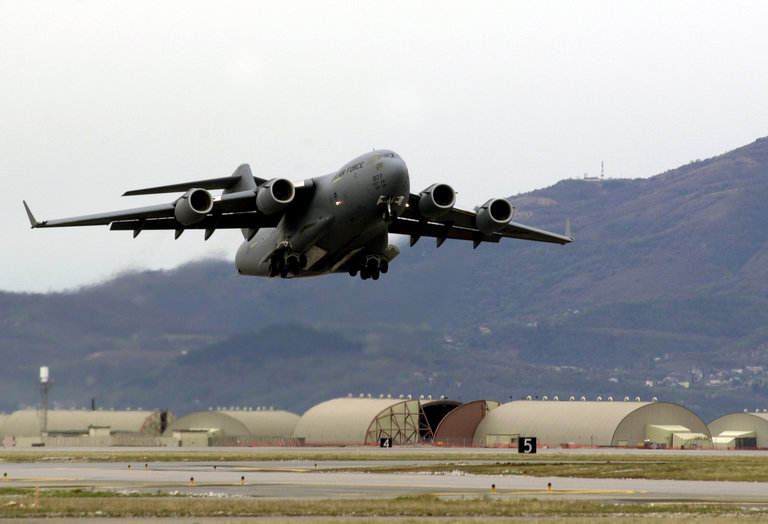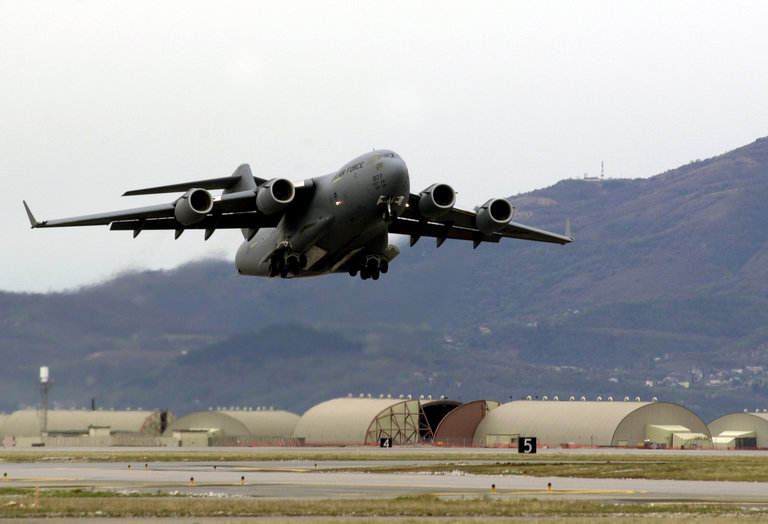 C-17 Globemaster III
The Boeing C-17 Globemaster III is a large military transport aircraft. It was developed for the United States Air Force (USAF) from the 1980s to the early 1990s by McDonnell Douglas. The C-17 carries forward the name of two previous piston-engined military cargo aircraft, the Douglas C-74 Globemaster and the Douglas C-124 Globemaster II.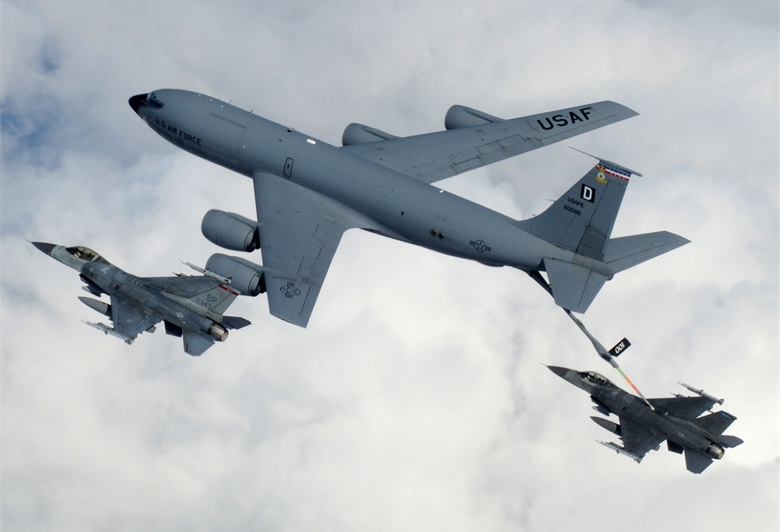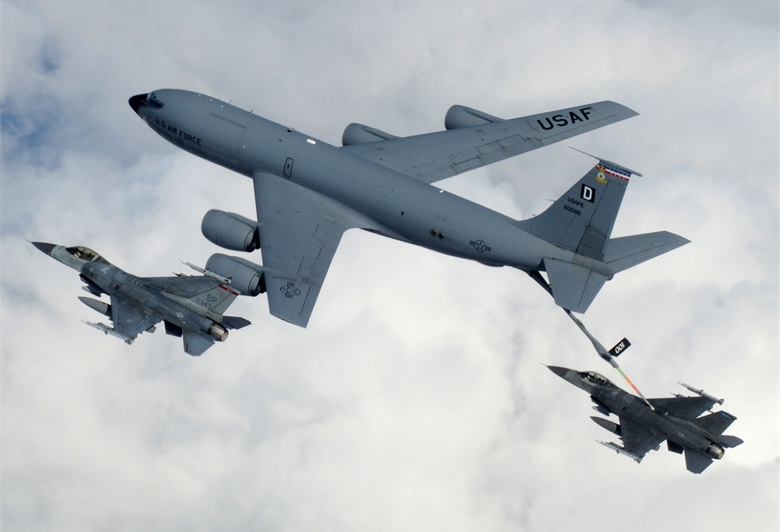 KC-135 Stratotanker
The KC-135 Stratotanker provides the core aerial refueling capability for the United States Air Force and has excelled in this role for more than 60 years. This unique asset enhances the Air Force's capability to accomplish its primary mission of global reach. It also provides aerial refueling support to Air Force, Navy, Marine Corps and allied nation aircraft. The KC-135 is also capable of transporting litter and ambulatory patients using patient support pallets during aeromedical evacuations.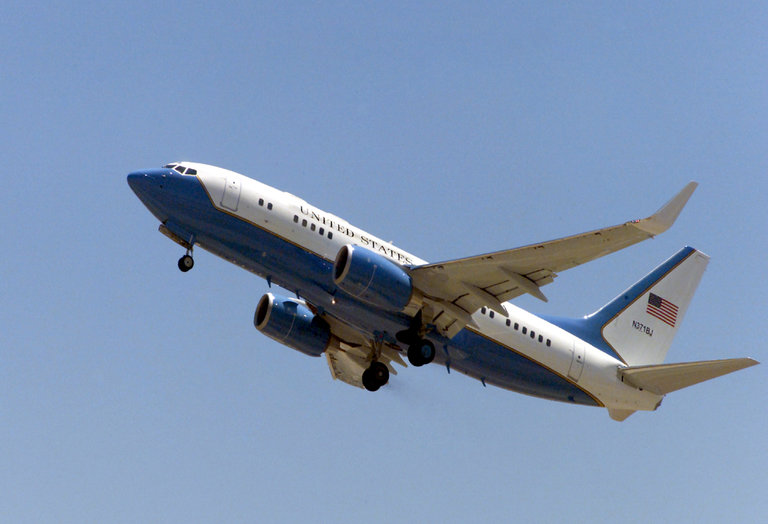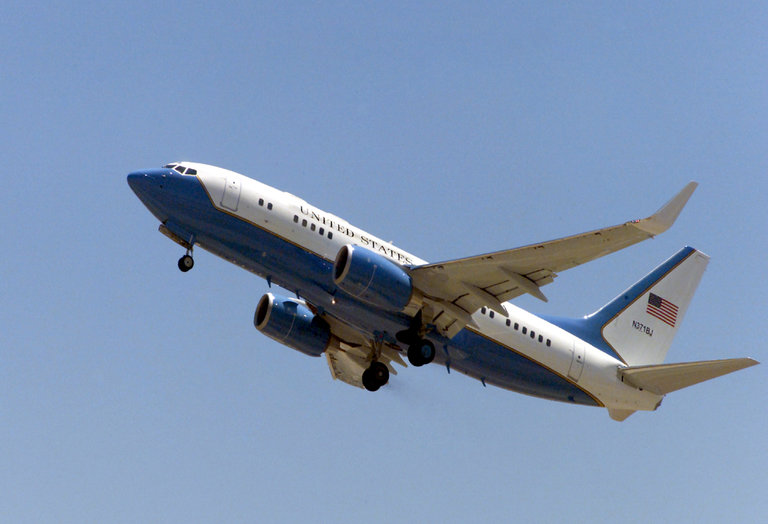 Boeing C-40 Clipper
The Boeing C-40 Clipper is a military version of the Boeing 737-700C airline transport. It is used by both the United States Navy and the United States Air Force, and has been ordered by the United States Marine Corps. The Navy C-40A variant is named "Clipper", whereas the USAF C-40B/C variants are officially unnamed.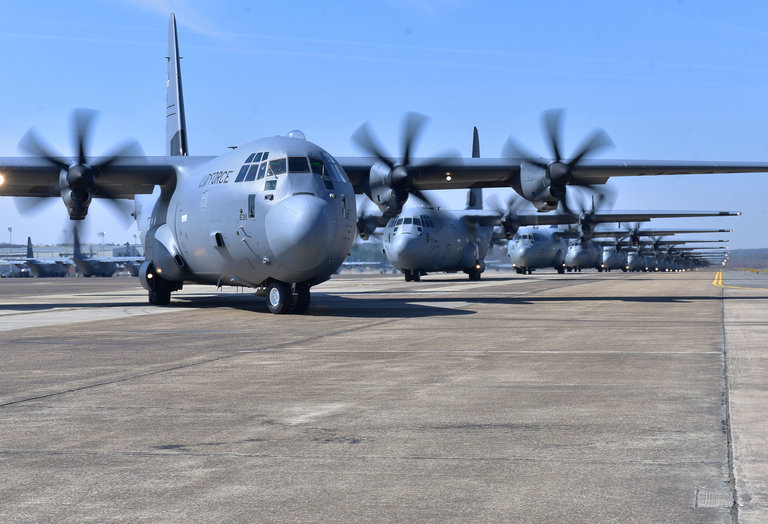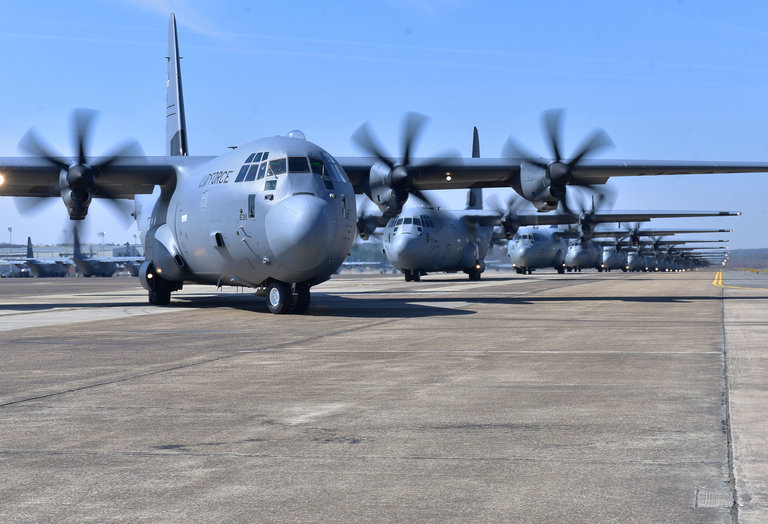 C-130 Hercules
A U.S. Air Force C-130J Super Hercules Aircraft from Dyess Air Force Base, Texas, takes off during Exercise Swift Response 16 at Hohenfels Training Area, Germany, June 17, 2016. Exercise SR16 is one of the premier military crisis response training events for multinational airborne forces in the world, the exercise has more than 5,000 participants from 10 NATO nations. (U.S. Air Force photo by Master Sgt. Joseph Swafford/Released).
T-1 Jayhawk
The T-1A Jayhawk is a medium-range, twin-engine jet trainer used in the advanced phase of specialized undergraduate pilot training for students selected to fly airlift or tanker aircraft. It is also used to support navigator training for the U.S. Air Force, Navy, Marine Corps and international services.
T-38 Talon
The T-38 Talon is a twin-engine, high-altitude, supersonic jet trainer used in a variety of roles because of its design, economy of operations, ease of maintenance, high performance and exceptional safety record. Air Education and Training Command is the primary user of the T-38 for joint specialized undergraduate pilot training. Air Combat Command, Air Force Materiel Command and the National Aeronautics and Space Administration also use the T-38A in various roles.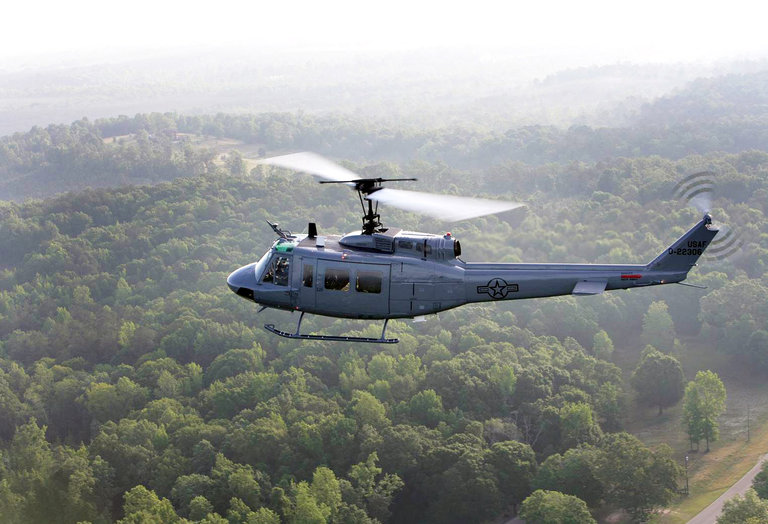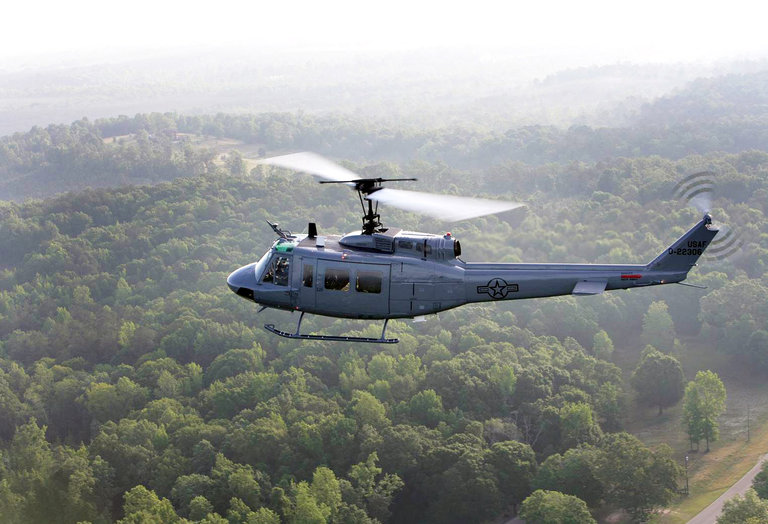 TH-1
The Vietnam-era UH-1H helicopters were converted into brand new TH-1H helicopters, seen here in action. The UH-1Hs are stripped down,cleaned and then built back up with brand new structural and dynamic parts, an upgraded engine and a glass cockpit that includes state of the art avionics. Courtesy photo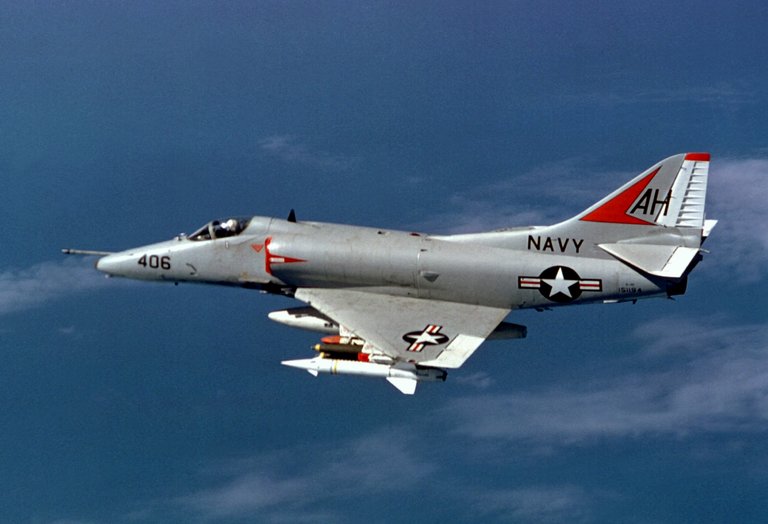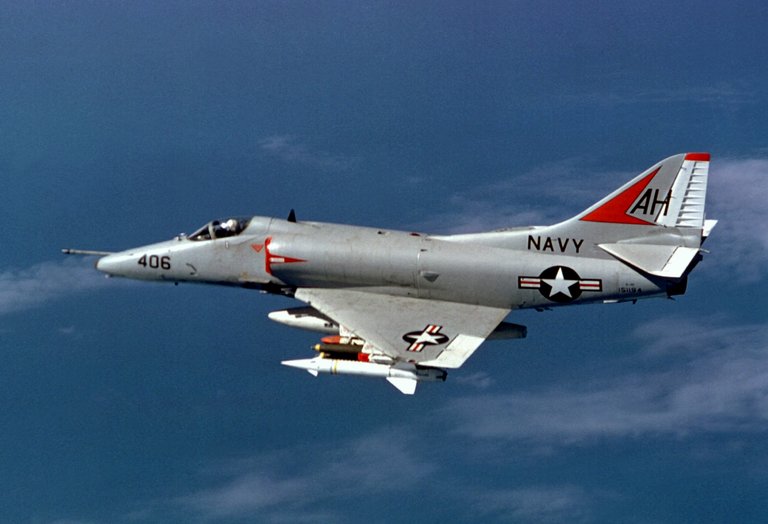 A-4 Skyhawk
The Douglas A-4 Skyhawk is a single seat subsonic carrier-capable attack aircraft developed for the United States Navy and United States Marine Corps in the early 1950s. The delta winged, single turbojet engined Skyhawk was designed and produced by Douglas Aircraft Company, and later by McDonnell Douglas. It was originally designated A4D under the U.S. Navy's pre-1962 designation system.
AW-139 (MD state police)
The AgustaWestland AW139 is a 15-seat medium-sized twin-engined helicopter developed and produced principally by AgustaWestland. It is marketed at several different roles, including VIP/corporate transport, offshore transport, fire fighting, law enforcement, search and rescue, emergency medical service, disaster relief, and maritime patrol. In addition to AgustaWestland's own manufacturing facilities in Italy and the United States, the AW139 is produced in Russia by HeliVert, a joint venture between AgustaWestland and Russian Helicopters.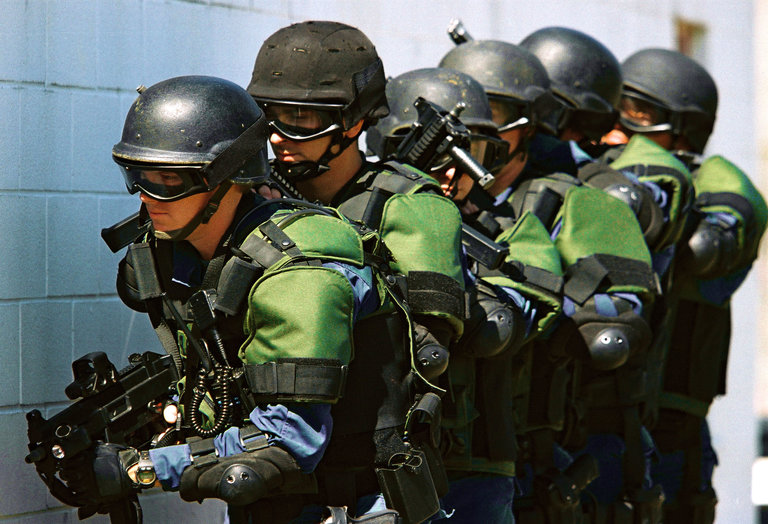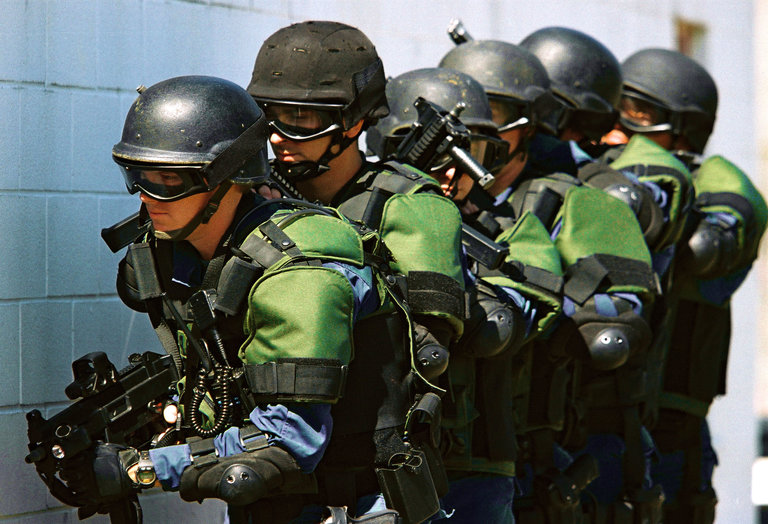 US Customs & Border Protection
United States Customs and Border Protection (USCBP) is the largest federal law enforcement agency of the United States Department of Homeland Security, and is the country's primary border control organization. It is charged with regulating and facilitating international trade, collecting import duties, and enforcing U.S. regulations, including trade, customs, and immigration. CBP is one of the largest law enforcement agencies in the United States. It has a workforce of more than 45,600 sworn federal agents and officers. It has its headquarters in Washington, D.C.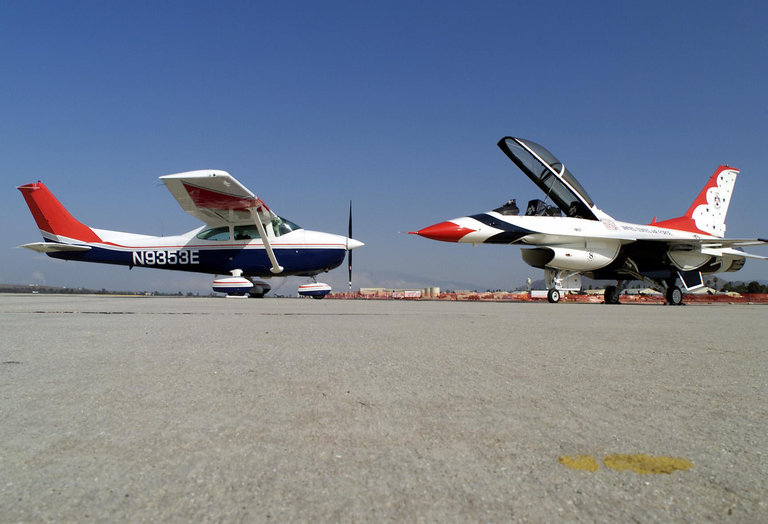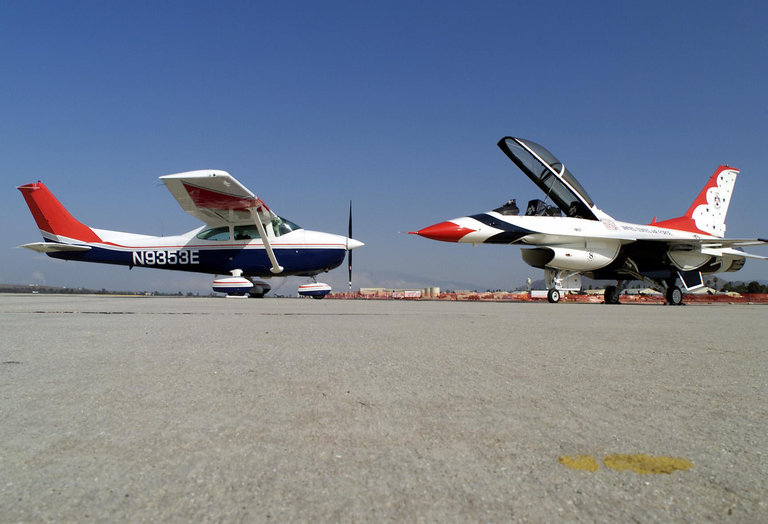 Civil Air Patrol
The Civil Air Patrol (CAP) is a congressionally chartered, federally supported non-profit corporation that serves as the official civilian auxiliary of the United States Air Force (USAF). CAP is a volunteer organization with an aviation-minded membership that includes people from all backgrounds, lifestyles, and occupations.
MQ-9
The General Atomics MQ-9 Reaper (sometimes called Predator B) is an unmanned aerial vehicle (UAV) capable of remotely controlled or autonomous flight operations, developed by General Atomics Aeronautical Systems (GA-ASI) primarily for the United States Air Force (USAF). The MQ-9 and other UAVs are referred to as Remotely Piloted Vehicles/Aircraft (RPV/RPA) by the USAF to indicate their human ground controllers.
E-8 Joint stars
The E-8C Joint Surveillance Target Attack Radar System, or Joint STARS, is an airborne battle management, command and control, intelligence, surveillance and reconnaissance platform. Its primary mission is to provide theater ground and air commanders with ground surveillance to  support attack operations and targeting that contributes to the delay, disruption and destruction of enemy forces
C-54 Skymaster
The C-54 Skymaster is a four-engined transport aircraft used by the United States Army Air Forces in World War II and the Korean War. Like the Douglas C-47 Skytrain derived from the DC-3, the C-54 Skymaster was derived from a civilian airliner, the Douglas DC-4. Besides transport of cargo, the C-54 also carried presidents, prime ministers, and military staff. Dozens of variants of the C-54 were employed in a wide variety of non-combat roles such as air-sea rescue, scientific and military research, and missile tracking and recovery. During the Berlin Airlift it hauled coal and food supplies to West Berlin. After the Korean War it continued to be used for military and civilian uses by more than 30 countries. It was one of the first aircraft to carry the President of the United States.
C-47 Skytrain
Few aircraft are as well known, were so widely used or used as long as the C-47. Affectionately nicknamed the "Gooney Bird," this aircraft was adapted from the Douglas DC-3 commercial airliner. These C-47s carried personnel and cargo around the globe. They also towed troop-carrying gliders, dropped paratroops into enemy territory, and air evacuated sick or wounded patients.
T-45 Goshawk
The T-45A Goshawk is a tandem-seat, carrier capable, jet trainer whose mission is to train Navy and Marine Corps pilots. The T-45A aircraft, the Navy version of the British Aerospace Hawk aircraft, is used for intermediate and advanced portions of the Navy/Marine Corps pilot training program for jet carrier aviation and tactical strike missions.
F-18 Super Hornet
A true multi-role aircraft, the F-18 Super Hornet is able to perform virtually every mission in the tactical spectrum including air superiority, day/night strike with precision guided weapons, fighter escort, close air support, suppression of enemy air defense, maritime strike, reconnaissance, forward air control and buddy refueling.